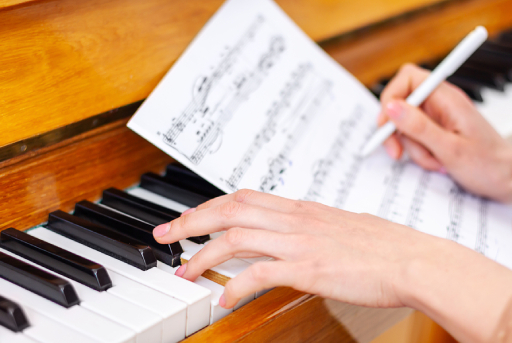 At some point, every beginner pianist has felt that laying out the piano fingering for a  piece was rather tedious. However, using the right finger numbers at the outset when learning a piece of music allows quicker learning and memorisation.
This is because piano fingering is more than just physical movements; it also involves planning ahead and mentally visualising what you'll be playing to enable the smooth execution of even the most complex passages. Mastering piano fingering and developing solid skills enhances your expressiveness, technique, and musicality, making it a critical aspect of becoming an expert pianist.
Sort out the piano fingering first
Working towards good piano fingering is well worth the effort as it lets you better play with ease and improves your fluidity. Start by determining which fingers you will use when beginning a new piece so that you can immediately learn the proper 'movement' of your fingers and avoid wasting time trying to correct yourself later on.
Most piano sheet music from good editions comes with finger numbers already written in the score, making it easier on your part. Start by assessing the recommended finger numbers and seeing what works. However, there are others where there are no finger numbers written out. Hence, it is essential to know a few standard 'rules' for using what fingers in what patterns, which will be explored later. These basic piano techniques have been tried and tested to work well for most pianists.
Should everyone use the same fingers?
There will be instances where you will find that some piano fingering methods do not work for you. This is normal as some techniques suit one person's hands better than others, so you can always try something else.
When learning the piano, using clever fingering is a must once you move past the 'five-finger stage' of playing. Once you are at the point where you need to stretch more than a fifth or change your hand position, you will have to figure out what fingers to use.
Write things down
When deciding what fingers to use, always keep a pen and pad handy so you can write any changes you make as you work through a score. Refrain from relying on your memory since you are unlikely to remember everything. While piano fingering is undoubtedly fundamental, you have better things to pay attention to when performing a piece, so make it a rule to always write things down!
The basic rules of piano fingering
There are no hard and fast rules to piano fingering that will work for every piece of music. In fact, the rules for good piano fingering are simply whatever works best for you in tackling a piece that does not have any written finger numbers. For those just starting, it is understandably difficult to know what fingerings work for you. The following basic principles can help you start on the right foot:
1. Avoid using your thumbs or first fingers on a black key
This rule stems from the fact that the thumb is shorter than the other fingers, and the hands tend to make unnecessary jerky movements. But there are exceptions to this rule. For instance, when playing an entire piece mainly on the black keys, your hand will already be placed above them, so using your thumbs is perfectly fine.
2. Master the basic finger patterns
Playing the scales, chords, inversions, and arpeggios lets you learn basic finger patterns. This exercise teaches you the tried and tested finger patterns that have worked for pianists for hundreds of years since music is comprised of three main types of patterns or building blocks, namely:
Scales or part of scales.
Chords – blocked, broken, or arpeggiated.
Intervals.
Learning the key fingers for these piano technique patterns solves most of your problems.
3. Find the fingering technique that works for as long as possible
This means using a piano fingering that allows you to keep your hand in the same position for as long as possible. Prioritise maintaining a comfortable hand position while avoiding any awkward stretches.
Typically, you should try using the same finger for repeated notes and be consistent to make it easier to play more fluidly (with certain exceptions). Be 'cleverly lazy' by minimising moving your hand around as much as possible.
4. Proper piano fingering serves expression
When playing a musical phrase, ask yourself: where does it lead to? Where is the climax? The landing or resting point? At which point does the phrase have to flow forward, and where can it stop?
If you notice that what you thought was a practical and clever piano fingering halts the flow or makes a passage more challenging to play, simply find other ways until you solve the passage!
But it is important to remember that you may often need to adjust the fingerings to make the sound you want or better suit your playing style. Experiment as much as possible and find what works best for you, even if it means straying from the written fingering markings in the score.
Conclusion
Piano fingering promotes improved overall technique, less difficulty playing challenging pieces, and prevents repetitive strain injuries. Furthermore, mastering fingering techniques allows one to more effectively and accurately express themselves through their instrument. As such, it is vital to never skip the essential principles of this aspect in playing the piano as it allows pianists to perform a piece in the way they want to express it musically.
Besides developing good technique, having a quality piano is essential to improving your playing skills. If you are ready to upgrade to a better piano that matches your skills, Mun Kai Piano Company provides pianos for rent in Singapore made by renowned manufacturers like Kawai, Steinway & Sons, Yamaha, C. Bechstein, and others for you to get a feel of your preferred piano before investing and upgrading in an affordable, high-quality used piano of your choice. Besides rentals, our extensive services cover all things piano, from sales and repairs to maintenance and regular piano tuning. Visit our piano showroom today to get a feel of the pianos we offer!